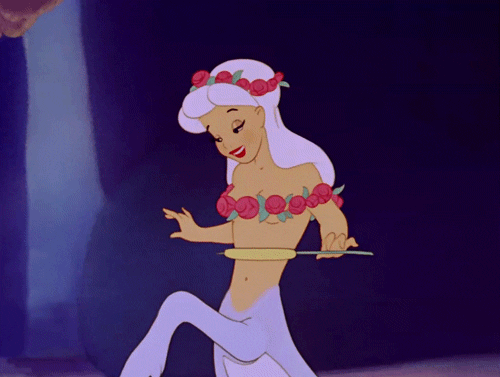 Some of you may have seen on my Instagram or Facebook that I recently completed a cosplay of one of the centaurettes from Disney's "Fantasia." I chose the one filing her nails with a cattail in one scene. I love her style, and I was drawn to her color scheme. But there's a dark subtext to this character, and, in fact, this whole segment: Racism.
Let's back up. In the original theatrical release of Disney's Fantasia in 1940, the Pastoral Symphony featured a black centaurette named Sunflower. Sunflower was very obviously a racist caricature. She had big, exaggerated lips and hair, and the body of a donkey. Her role in the movie was to assist the other centaurettes as they got ready, essentially serving them.
When the movie was rereleased in 1969, Sunflower was gone. She was now considered too offensive, and her scenes were modified to eliminate her. People of my generation never saw Sunflower, or at least, not until much later, online.
Remember the centaurette I chose to cosplay? She's been cropped. In the original version, Sunflower is polishing her hooves.
Of course, Sunflower isn't the only remnant of the racist 40's found in Fantasia. There are two "exotic" black zebra centaurettes in the third part of the pastoral symphony, and just think about the implications of the fact that the centaurettes pair up with the centaurs based on the color of their skin and fur… oof. And that's not to mention the heteronormativity.
I love Fantasia. On my family's VHS copy, the pastoral symphony segment skips because I rewatched it so many times. I've drawn fanart, and cosplaying a centaurette, complete with a functional horse body, has been a long-standing dream of mine. And I'm not alone. Fantasia and the centaurettes are beloved by many people, people who are not pro-racism.
So how do we reconcile this? Can we love something that's problematic?
I say yes, for two main reasons. First: If you couldn't love problematic things, there wouldn't be any media left to love. That's… slight hyperbole, but only slight. It's a minefield out there. There are so many ways to hurt people, and we've spent so many decades ignoring them that they're engraved into our cultural consciousness now: Hard to spot, and even harder to eliminate. No media is perfect, and if you refuse to consume anything harmful, you're going to really struggle to find things that are "safe" to consume.
Obviously, you get to decide where you draw that line. I'm not by any means suggesting that we shouldn't sometimes choose not to support harmful media. But I love media, I love movies and television, and personally, I'd rather consume widely and critically.
And second: By consuming problematic media, we learn to analyze media and think about it complexly, and we enable ourselves to hold creators accountable and demand better.
Of course, there are right and wrong ways to love problematic things.
the wrong way
Defend it. Fantasia was racist? Come on, it was the 40s, everyone was racist.

Okay, first off, defending racism is never a good look. If you make excuses for problematic media, all you're going to do is show everyone that you're cool with bigotry. And while racism was certainly more common in 1940, that doesn't make it okay.

Ignore it. The easiest way to love Fantasia might be just pretending that it isn't racist. It's not hard to ignore Sunflower; she's not on your DVD, she's not on Netflix. You have to seek her out.

But by ignoring the racist history of the Pastoral Symphony, you're only seeing part of the picture; the part of the picture you're comfortable with. Ignorance may be bliss, but it's also selfish and prevents progress.

Dismiss it. It's just a kids' movie. Don't take it so seriously.

Look, it's easy to dismiss problematic media by pretending that media isn't important. But that's just laughably incorrect. These days, we spend the vast majority of our time consuming music, movies, books, web content, and advertising. Sociologists and psychologists have been studying the effects of mass media on the way we think and act since the early 20th century. Media teaches us how to view and interact with the world and each other. Children's media is even more influential, because it comes to us at a time when our perceptions are still forming.
the right way
Think critically about what you consume. Watch anything from indie art films to trashy reality TV — just don't shut off your brain. If you make sure you're questioning everything you watch or read or listen to, you can identify problems instead of internalizing them.

Talk about the problems. Talk about them with friends, on the internet, in class, and with people whose opinions you respect. We each have our own perspective, and sometimes hearing the perspectives of others can show us when we're making assumptions, or viewing things with a bias.

Push for better. When we recognize what's wrong with the media we love, it empowers us to demand more. I truly believe that if you love something, you want it to be the best that it can be. Sometimes, that means pointing out where it's going wrong, and asking for it to do better.
Disney isn't perfect. In fact, Disney has a pretty poor track record when it comes to representing people of color in particular. We can love Disney, but we shouldn't love it blindly, and we certainly shouldn't give it a free pass for racism. Fantasia and Sunflower were a long time ago — almost 80 years — but racism isn't gone from Disney movies.
Over 70% of Disney's leading ladies are white, and their movies set in historical Europe still stubbornly refuse to include people of color even in the background despite overwhelming evidence showing that that's historically inaccurate. Acting like Sunflower is ancient history is ignorant at best, and disingenuous at worst.
It's okay to love Fantasia. It's okay to hate Fantasia. But it's not okay to only acknowledge the parts of Fantasia that we feel comfortable with. Love media, love media with problems, but think about media. Engage with it. Hold it to a high standard, because we can do better.