Remember that you can check out my other reviews here anytime. Also, if you have any suggestions for books you think I should read, books you think I'd like, or books you'd like to see reviewed, make sure to let me know in the comments! I can't guarantee that I'll read them, but I'll certainly consider it.
Matched by Ally Condie was another book recommended to start me out on the current YA lit scene. I haven't been involved in the young adult community for some time—I graduated with my bachelor's degree in English with a Writing emphasis last spring, and that capped off four years of reading primarily literary fiction. With the exception of The Hunger Games, I hadn't read any young adult lit in at least four years. Matched is, like all the other books I've reviewed, the beginning of a short series. It was quickly optioned by Disney, and has started production under the direction of David Slade, who directed Eclipse, from the Twilight series (barf), as well as Hard Candy (hell yes.)
Looks like this one is on the fast-track—written in nine months, optioned for film within two years of release, and in production just two years after it was optioned. (For those of you who don't know, some books get their film rights optioned but are never actually produced, as in the sad story of A Great and Terrible Beauty, which was in talks for a film for years.) With a book moving as quickly as this one, I didn't want to miss the ride—and neither should you!
Light spoiler warning—it's almost impossible to talk about any book without giving away some basic plot elements. You've been warned!
First off, I was starting to get really puzzled by the recent YA fixation with love triangles. I've always found being pursued by two equally attractive and qualified males to be a super Mary-Sue trait in a main character—"oh gee, I'm just so desirable that nobody can keep their hands off me!"—so I started thinking about why this was happening so much. First, I had to ask myself if this had always been happening, and I'd just not been paying attention. The answer, I'm pretty sure, is no. My favorite novels when I was in middle and high school (Protector of the Small, Tithe, The Golden Compass, Sabriel, etc.) had love stories, yes, but they were always between two people, slowly falling in love with each other over the course of their adventures.
The next question is, why have these storylines become so common? I can't help but feel the need to point to Twilight, because I feel that it was a bit of a trendsetter—not just for the love triangle plotline, but for changing the ideology of how readers relate to main characters. In books like the ones I mentioned above, the reader connects to the main character by identifying with their personality and/or their emotional circumstances, and then experiences falling in love alongside the main character. However, in books like Twilight, you relate to the main character by placing yourself into her blank-slate position in the text. Bella, for example, has no actual character traits, and very little physical description, so the reader finds it easy to imagine themselves in her position. This gives the author the opportunity to put the main character in circumstances that the reader can probably in no way relate to, e.g. being a teen girl and being hotly desired by not one, but two attractive, interesting, motivated, intuitive, exciting guys that she must choose between.
The popular young adult novel is shifting from the perspective of connecting to the reader and engaging them in a journey they can relate to, to a "first person shooter"-style self-insert, where you can then fulfill unrealized fantasies with the main character as your avatar. Writing a self-insert story isn't hard, and it isn't impressive. Probably 90% of fanfiction does it about as well as Twilight does. Writing a character who is relatable to a huge audience but still multi-dimensional and interesting is really freaking challenging, and I have deep, lasting respect for authors who can achieve it.
With that said, Matched managed to use the love triangle storyline and write straight past it into an interesting, multi-dimensional character. (The Hunger Games, too, managed to use the love triangle in a way that didn't Mary-Sue-ize the main character. It can be done!)
The novel takes place in a highly controlled society, a la The Handmaid's Tale or The Giver, in which officials of the government choose, based on recorded data and algorithms, where you work, who you marry, and when you die. The intent is, of course, to regulate life enough to keep people "safe," which is a common theme in dystopian literature; there is no divorce, no disease and suffering, etc. The main character, Cassia, is "matched" with her best friend, Xander, which is the best possible scenario for her. Everything is going along swimmingly until at home, when she looks at her matching microchip...thing, it has some sort of glitch and shows her a different match—Ky, another boy she knows. In a society this controlled, where everything is this expected, Cassia is thrown by the idea of this possibility, and that's when things start to get interesting.
What I like most about Cassia as a character is that at the beginning of the novel, she's perfectly normal, and she accepts the Society and embraces its structure. Her parents were happily matched and remain happily married; she is excellent at "sorting", one of the primary tasks performed by workers in Society, and she knows she will get a good job doing it; she loves Xander already as a friend and knows that being matched with him is the best possible scenario. Her life is basically set up to be awesome. This means that by challenging the world she lives in, she is risking losing all of the privileges she has.
And more than that, her awakening to the flaws and darknesses in her society is extremely well-paced and well-written. It's easy to see her slowly transitioning from obedient citizen to rebel, which is difficult to pull off. The reader can actually see her clinging to her old beliefs about the society protecting and caring for its citizens, even as her experiences tear those beliefs down.
Another thing I really loved about this book, as a writer and a lover of words, was the whole aspect of creativity as a controlled aspect. The Society has chosen the "hundred best" of everything—works of art, books, songs—and everything else has been destroyed. When Cassia receives a sort of "smuggled poem" from her grandfather on his Societally-imposed deathbed (Dylan Thomas' "Do Not Go Gentle Into That Good Night"), she starts thinking about the fact that no one in Society can write—they can choose words pre-written for messages, etc. on computers, and they can read, but they cannot create. Over the course of the book, Cassia comes to learn about and appreciate art and writing, and see the importance of being able to do such things herself. She values the possibility of being able to share your story and your experience with others, to bond over being able to express ones individual thoughts and feelings. For her, that idea is new and fresh and thrilling, and also dangerous.
I loved how the book managed to turn the love triangle plotline into more than just a story about "I want this, and this, but I can only have one"—Ally Condie instead created a world where the love triangle led Cassia not only to desire freedom of choice, but the ability to express herself and share thought and feeling with others through words.
Man, I love a book that loves books!
My final verdict: I'd recommend it.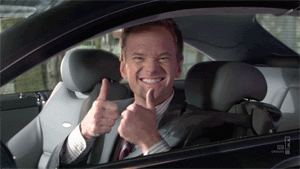 Have you read Matched by Ally Condie? What did you think? Tell me in the comments!