Hi! I'm Ginny, and this is a book review!
Hey there! Welcome to another book review! Remember that you can check out my other reviews here anytime. Also, if you have any suggestions for books you think I should read, books you think I'd like, or books you'd like to see reviewed, make sure to let me know in the comments!
I read Gone by Michael Grant because Nell recommended it to me in the comments for my Warm Bodies review. She gave it a glowing review, and I understand why. I read it extremely quickly; I got it in the evening and I read the first chapters before bed. The next day I read it both on my ten-minute break and my lunch at work, and then when I got home from work, I sat straight down on the couch and read it for six hours and finished it.
It's hard not to be skeptical of the premise. The idea behind the book is that suddenly, in the same instant, everyone over the age of fifteen disappears from the town, and a sort of force field appears around the town to prevent anyone from getting in or out. It's extremely convenient, and I wasn't satisfied with the explanation that they eventually gave for it.
SPOILER ALERT—it's hard to discuss a book without throwing in some minor spoilers, so be aware!
This book is extremely dark for a young adult book. For instance, some of the kids who are in charge decide that there are certain kids they don't want using their magical powers (or whatever) that they get, and most of their powers are channeled through their hands, so some of the kids — remember, these kids are all under fifteen — encase other kids' hands in blocks of cement so they can't use their hands, and thus their power. There are scenes where these kids are dragging these blocks around, crawling on all fours, and there are even some scenes where these cement-blocked kids are leashed by their necks to a fence and are eating off of cafeteria trays with their faces, like dogs.
The characters were very complex for a young adult book, and I definitely appreciated it. I liked that Sam perpetually avoided leadership roles, even though I think even he knew he'd be a better leader than the kids who were in charge. I liked that Quinn remained a good but weak person throughout the text, illustrating that over and over. I especially liked how Astrid felt tied down by her brother, but also felt guilty for feeling tied down; it gave a depth to her character that's rare in fiction geared towards young readers.
Side note: the names of the characters are stupid. Lana "Arwen"? Her middle name is Arwen? Even though there's no discernible reason to reference Lord of the Rings in this text at all? There isn't even a reference to her parents being Lord of the Rings fans. And Caine, who ends up being exactly what that name means? C'mon, were you trying to hand us the plot on a silver platter? Because you did.
Basically, if you like The Hunger Games of maybe Lord of the Flies, you'll probably like this book. It's a fast read, and very engaging.
My final verdict: I'd recommend it.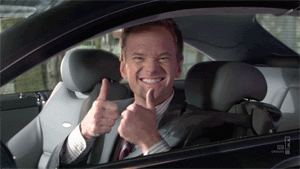 Have you read Gone by Michael Grant? What did you think? Tell me in the comments!